Review: Radiohead at Emirates Old Trafford Cricket Ground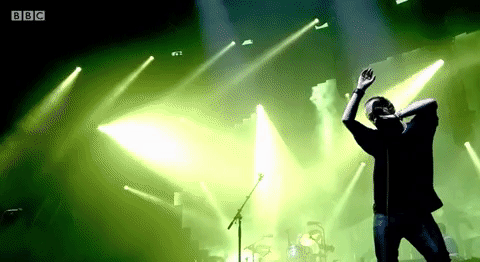 Fresh from their mind-blowing headline set at Glastonbury, Radiohead gracefully took to the stage at Emirates Old Trafford Cricket Ground last night and managed to blow everyone's minds all over again.
The change in venue (the event was originally set to take place at Manchester arena) meant the night became something very different than it's initial intention. Street food vendors, portaloos and pop up bars meant the event felt more like a festival than your average arena gig. The audience were definitely feeling the festival-style vibes and it seemed everyone was whisked away from reality for a few hours. It no longer felt like the gig was taking place in the middle of Manchester, it felt like we really could have been somewhere as other-wordly as Glastonbury!
Positioning is everything at a gig (especially when you're only 5ft 3!) and in this case, standing at the very back of the crowd seemed to be the best way to take everything in. From back there the music sounded incredible - particularly when they played bangers like 'Idioteque', which went off! - the visuals were stunning and it was heart-warming to witness the entire audience immersing themselves in the music in their own ways. 
Their newer music seemed to receive a better reception, as edgier guitar riffs made it easier for the crowd to move to, but no tune went without the majority of the audience singing along, proving their 30 year loyalty. The finale - 'Karma Police' - sounded so immense it created one of those truly beautiful moments where the entire crowd continued screaming the chorus long after they exited the stage. That moment alone will keep me on a high for days for sure.
Please reload